---
Psychologists from the UW Psychological Counselling Centre (CPP) will be available for UW students and employees also around Christmas time. Watch a video with Dr. Szymon Chrząstowski encouraging those who do not feel comfortable in this period or face some difficult situations, to come for short conversations.
Schedules for the Spring semester are available on the Institute's website in the section "Course Timetables" for the relevant cycle.
Science: workshops
General announcements
5 grudnia studenci, doktoranci i pracownicy UW wzięli udział w spotkaniu poświęconym Sojuszowi 4EU+, który ma status uniwersytetu europejskiego i łączy sześć uczelni badawczych...
(POWI) for foreign students will take place in the summer semester; information about the date will be posted on the website at the beginning of the semester.
Courses for Polish students will take place on:
General announcements: registration/exams
Prosimy o zapoznanie się z ważną informacją dotyczącą specjalnego kursu internetowego "Prace dyplomowe w relacji z otoczeniem społeczno-gospodarczym".

The British Embassy Warsaw welcomes applications from high-performing, motivated individuals who wish to gain professional experience in a dynamic, fast paced working environment, while helping to deliver UK goals in Poland. The Embassy offers a number of internship opportunities each quarter the details of which are set out below:
We invite graduate students and postdoctoral researchers to the fourth international edition of the conference Linguistics Prague (formerly Lingvistika Praha).
The conference takes place at the Faculty of Arts of Charles University in the very center of Prague, Thursday 23 April to Saturday 25 April 2020.
Science
General announcements
Osoby zainteresowane podjęciem studiów w innej uczelni w ramach programu MOST w semestrze letnim 2019/2020, zobowiązane są zarejestrować się pomiędzy 31 października a 30 listopada 2019 roku w Internetowej Rejestracji Kandydatów MOST...
Under the link below you can watch the promotional spot for the We Are All Equal campaign.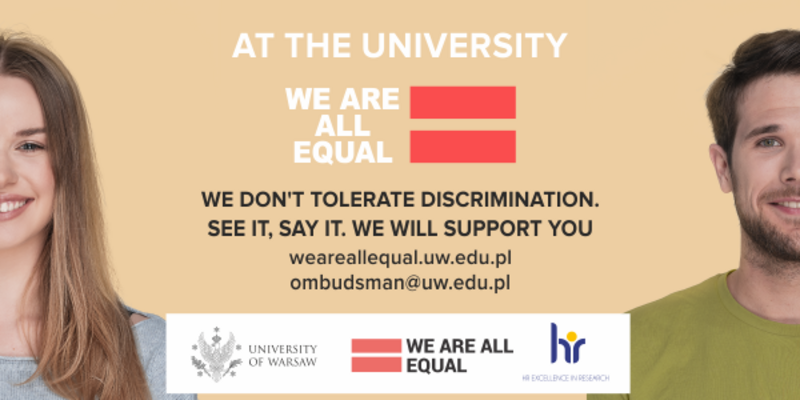 Science: workshops
General announcements
weareallequal.uw.edu.pl is an equality university website including comprehensive and practical information about, discrimination, its types and examples.